On one level it was same old Arsenal; on another it was something palpably different. Last year was less than 15 hours old when they lost in added time to a snaffled Rodri finish at the Emirates, meaning a first-half lead had been completely overhauled and Manchester City looked bound for the title. They felt the big decisions, such as Gabriel Magalhães's red card and VAR calls in either penalty area, had gone against them but anyone looking merely at the bare facts would have assumed the wearyingly familiar tendency to shoot themselves in the foot told enough of a tale.
Those watching more closely, including a Covid-stricken Mikel Arteta who had to dial in his team talk from home, would have rejected that as a lazy interpretation. This was not the same: yes, Arsenal had fallen short, but until Gabriel's departure they had outplayed City. The clinical finish supplied by Bukayo Saka had been the least they deserved in a relentless display of speed and daring. Four months previously a 5-0 defeat at the Etihad had brought the darkest period of Arteta's managerial career but now only the finest of margins separated his team from the gold standard.
"I think we took a lot of positives from the game," Arteta said on Tuesday when asked whether it served as a launchpad or, perhaps, a visible justification of his process. "For one reason or another we ended up losing it so the gap was still there for us to improve. Hopefully we've gone a little step further and [on Wednesday] we can show that against them."
The fact they have made that jump is already clear in the Premier League standings, even more so because they are three points clear of City before the latter's visit. It is also evident in Arsenal's record against the division's bigger fish since taking City to the brink last January. In league matches with Liverpool, Chelsea, Manchester United and Tottenham they have won seven times and lost three. It is an enviable run of form: they thrive on these occasions now, especially at a raucous, baying Emirates. Arteta's players do not shrink against anybody.
Nonetheless, City represent the final frontier. Arsenal have lost their last 10 top-flight games against Pep Guardiola's side, scoring three times and conceding 26. It is a grisly record, symbolic both of City's excellence and the distance Arsenal fell from offering serious competition to any of the title contenders. That is why the nature of their performance on that New Year's Day mattered: it was clear Arteta had developed a method that, a few ripples aside, could finally stand up against the very best.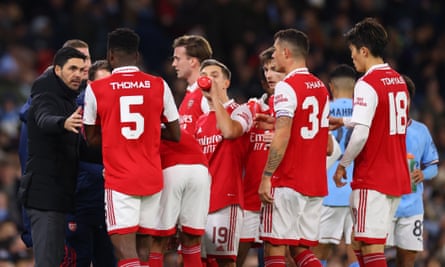 "The small details, in the end, dictate those football matches," Arteta said, referring to another encouraging performance in losing narrowly at City, even if both sides were holding something back, in the FA Cup late last month. "We will demand perfection from everybody for 96 minutes to beat them."
Rodri has already shown them nothing less will do. The sides have not met in the league since then but continuity in key areas has been vital for Arsenal. Thomas Partey, Granit Xhaka, Saka, Martin Ødegaard and Gabriel Martinelli filled the positions in front of defence and behind the centre-forward last time out; they will probably all do so again tonight, although Martinelli has shown signs of requiring a rest and Leandro Trossard is staking a claim.
The tweaks have come in either box, notably with City's help. Guardiola picked Gabriel Jesus to start last season's game but the Brazilian would now be spearheading Arsenal's frontline if injury had not intervened; a much-improved Eddie Nketiah is doing almost as well in his stead. Oleksandr Zinchenko has, after a stop-start introduction due to fitness issues of his own, become an essential pick at left-back and provided a key step in the team's evolution by tucking into the midfield. William Saliba and the repositioning of Ben White have also been critical but the pair Guardiola let go, for a combined £77m, have been as important for their off-pitch knowhow and muscle memory of winners as their work on it.
Now Arsenal can prove that they are the same side that overran City previously with a crucial difference: the glinting, razor-sharp edge of champions. The past 11 days have brought their first signs of a wobble. They did not do enough against a highly motivated Everton and, while Arteta's fury at the points inadequate VAR officiating cost them during Brentford's visit, he will know their performance left them open to mishap. But City are not Brentford, or the Newcastle team that niggled their way to a point in January. They will try to carry the fight but Arsenal have already shown they can land heavy blows of their own.
"It's the perfect match because it's the next one," responded Arteta to the question of whether a meeting of contenders would make the ideal change from those recent niggly, physical affairs. Navigating those margins just a shade more expertly than last year would give them a firm eye on the perfect season.