A young girl's life depends on her grandmother's thrice weekly drive from Tyler to the road-tangled heart of Dallas.
"I don't enjoy driving at all, but I have to," said Gayla Springer, 58.
In 2016, when Springer took over custody of her grandchild, Miracle, she soon took on another responsibility. Taking care of a 1-year-old diagnosed with kidney cancer.
"Her name is Miracle and she is a miracle," Springer said. "She's beaten all the odds."
Both of Miracle's kidneys were removed to save her life, but without a kidney transplant, the 6-year-old needs special pediatric dialysis machines to clean her blood. The closest machines are 100 miles away, deep in Dallas, and after three years on the donor list, Spinger's still not sure when Miracle will receive those vital organs.
Her outgoing drive from Tyler varies from 90 minutes to two hours. The return journey can be twice that.
"On the way home, if you hit that window past 3:15 pm, it can turn into a two, three-hour drive," Springer said.
Fuel comes out to $60 a trip — a burden that weighs heavy on the Springer family's single source of income. Gayla's husband is a local softball coach.
Week by week, the mileage builds on her Ford Expedition. Springer said she's been through five vehicles in five years.
Her current SUV is large, gas-slurping and an absolute necessity for Miracle's needs, which include a wheelchair and room for a house nurse as well as occasionally breathing equipment.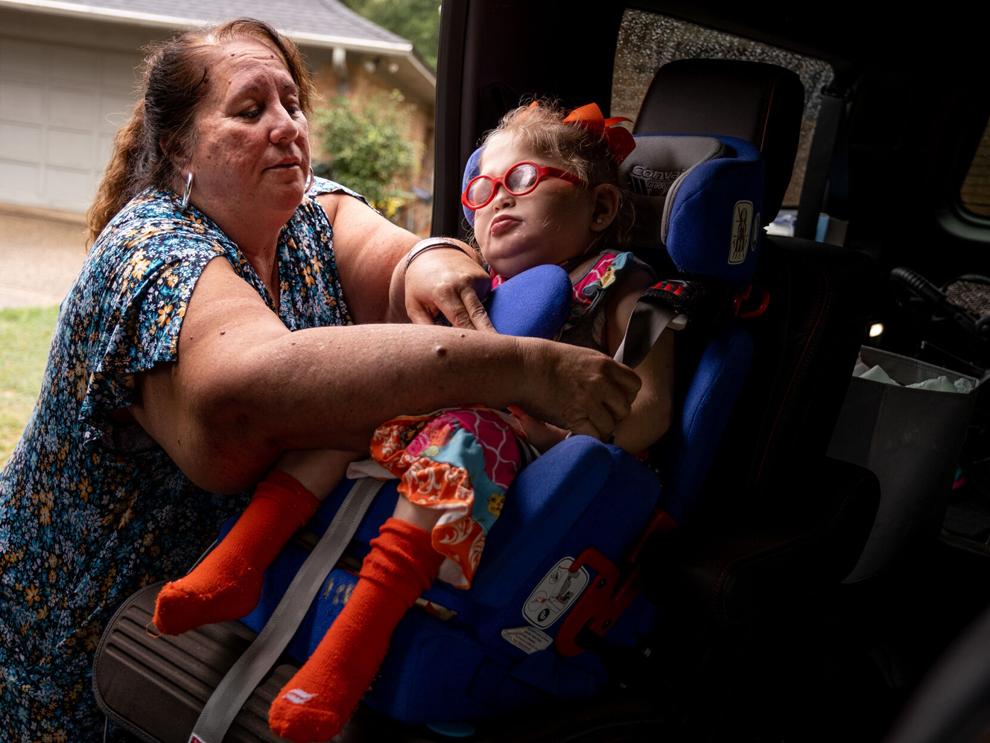 Those needs have remained constant. What hasn't is the drive itself.
"It's more of a steady traffic now, and the drivers are crazier," Springer said of Interstate 20 since the pandemic. She also noticed a growing share of that congestion coming from packs of semi-trucks jockeying for position on the two westbound lanes.
"It's really difficult," Springer said.
Still, Miracle's grandmother has little time to ruminate — at least behind the wheel. The road requires her full attention: "You have to be so alert."
Post-pandemic shake-up
In spring 2020, COVID-19 performed a vanishing act on America's snarled roadways. Cars and trucks seemed to evaporate as Texans and the rest of the country sheltered in place.
When traffic roared back by the end of 2021, it was different. The pre-pandemic metronome of rush hours and lunch hours became unpredictable. Congestion arrived at odd times and new places. Eighteen-wheelers multiplied as did delivery vans and trips to state parks.
"That's happening all over the country," said David Schrank, an urban mobility researcher at Texas A&M University. "It's just happening faster in Texas because Texas is growing faster than anywhere else, and where Texas is growing is in the DFW area."
The last decade saw the Dallas-Fort Worth area transformed at a scale and speed unlike any other in the United States. That area has grown up and out, adding 170,000 new residents from 2021-22.
Thirty-seven of the state's 100 most congested roads are in Dallas-Fort Worth.
As that area has grown, so have the commutes of East Texas drivers making their way back and forth. Expenses in gas, vehicle maintenance, time and mental health are adding up, as well.
Super commuters are experiencing a multitude of spillover effects spurred by the DFW area's growth and novel shifts sparked by the pandemic.
"We're seeing a shift outwards, so people moving from the big metros to smaller communities," Schrank said. "That's something that's affecting the Tylers and Longviews, which are in shouting distance of a big city."
There also are the hybrid workers — approximately 28.2% of all employees, according to a  Forbes survey — who have exploded traditional traffic patterns, grabbing a coffee at 10 a.m. instead of 6:30 a.m. or working from home Monday but driving to the office Tuesday through Thursday.
As for the semi-trucks, Schrank said that's a byproduct of a significant transition to online shopping that's continued since the pandemic. Many of the trucks on I-20 are on their way to one of the multitude of new shipping facilities dotting the urban fringe of DFW.
Once they unload their contents, fleets of smaller vans and trucks fan out for deliveries.
"It's not just traffic on the interstate anymore. It's filtered down to state highways and smaller roads because of the shifting supply chains," Schrank said. "There's this variability of traffic that we just didn't have before or during COVID."
Swimming upstream
While most super commutes tend to follow a basic pattern — traveling to big cities for work, meetings and critical services — a smaller group makes that drive in reverse.
Longview High School special needs instructor Keith Coleman is one of them. The Longview native and reluctant resident of Granbury southwest of Fort Worth has rearranged his life around fulfilling his dream.
"It's been one of my lifelong career goals to teach here at Longview High School," Coleman said. The only barrier to moving east is Coleman's wife of 37 years.
"I married a West Texas girl who hasn't quite seen the light that ETX is better than West Texas," Coleman said with a laugh.
So for the past five years, he's saddles up Sunday evening then tacks northwest along U.S. 67, circumnavigating Dallas until he reaches Terrell. There's a ritual detour to Buc-ee's for food and fuel.
Finally, after three hours, he arrives at his trailer in North Longview, his crash pad for the school week. On Friday evening, Coleman returns home.
Coleman, unlike Springer, said he enjoys the herculean commute — its familiarity, the time it affords to think and reflect. Everything except the post-pandemic traffic.
"There's just a heck of a lot more 18-wheelers, especially after COVID," he said. "I-20 has gotten so busy with traffic. Friday nights are the worst. Sunday nights it's mostly semis, and I usually end up behind a caravan of them."
Coleman said he would like to spend more time with his wife after work, but the drive is simply too forbidding to tolerate more than twice a week.
"If I drove every day, it would kill me. I'm 61. There's just no way," he said.
Until his chance encounter with a Longview highway patrolman a few years back, he figured he might be the only person other than truckers making regular journeys between DFW and East Texas.
Coleman recalls chatting with the officer at a gas station before being immediately stopped by the patrol car seconds later. He'd forgotten to secure his seatbelt.
The officer looked at his driver's license.
" 'Granbury, what on earth are you doing here?'," Coleman recalled. "And I told him I worked at the high school.
"Then the officer was like, 'You know, I've met a couple people who drive from here to Dallas every day,' " Coleman said. "So I thought, 'Ha, I guess I'm not so unusual.' I'm just driving the other way."
And Coleman is not unusual. According to the U.S. Census Bureau, super commuting, which the agency defines as driving 90 minutes or more each way to a destination, increased 45% from 2010 to 2019.
Coleman hopes there's one less super commuter soon.
"My wife's starting to come around to the idea of moving back to Longview," he said.
Meanwhile, the Springers are on a different timeline, ever hopeful for news of a kidney donor. Until that news comes, Gayla will be on the road with Miracle to Dallas.