DALLAS – A day after former president Jimmy Carter entered hospice care Dallas Area Habitat for Humanity Leaders are expressing thanks and gratitude for the President's 39-year partnership with the nonprofit.
Carter and his wife, Rosalynn, came to Dallas and Fort Worth in 2014 to help build 30 homes and renovated 20 others in East Oak Cliff.
"I had the incredible once-in-a-lifetime opportunity to work alongside President and Mrs. Carter," said Blaine Cowart, the vice president of homeowner services for Dallas Area Habitat for Humanity.
READ MORE: Jimmy Carter: The Carter Center now accepting "messages of support" for former president
Carter made his trip to North Texas even though he had just turned 90 years old.
"The average person who may not know a lot about President Carter may have thought he would have come out and supported the project, been on the sidelines, that could not be further from the truth. President Carter is one of the hardest working people I have ever met," Cowart said.
FOX 4's Clarice Tinsley talked with Mr. Carter back in 2014 about why he kept up the hard work.
"Well the most emotional aspect of Habitat is when we finish a house, and we give the keys and a Bible that Rosalynn and I have signed to the homeowners and let them know for the first time in their lives they will own a house," the former president said.
READ MORE: 'Get back to work': Habitat for Humanity CEO remarks on Jimmy Carter's legendary work ethic
President Carter kept on working full days after the cameras were gone.
"Well i notice that I've lost about 10% of my vigor since I was 85, you know, working all day, but still I get along well, put in a full days work along with everybody else and enjoy it very much," said Mr. Carter in 2014.
"We were diligent about planning the project knowing he is a go-getter. If we had something that needed to be done on the roof, expect that President Carter would be on the roof of that house swinging a hammer and getting it done," said Cowart.
Rosalynn Carter, the former president's wife now of 76 years, also put in the physical labor.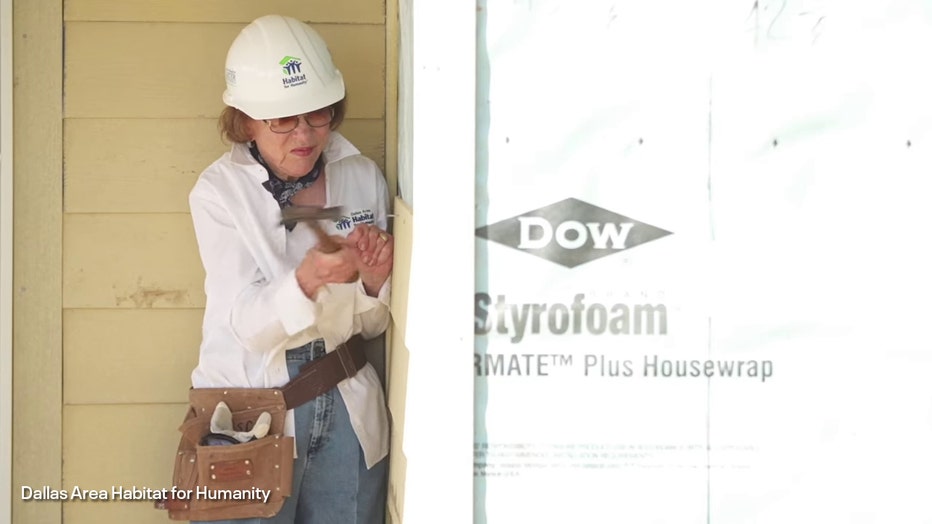 Cowart says Mr. Carter made a point to meet the 30 families who were buying their homes through Habitat.
"Every morning he would say a prayer with the family on the home he was working on," said Cowart.
Cowart says nearly 9 years later, families are still feeling the impact.
"They have grown families," she said. "To know homeowners who bought in 2014 are now enjoying equity, that is real wealth."
READ MORE: What happens after the death of a president?
Habitat says they continue to wish President Carter comfort as he is surrounded by the love of his family in Plains, Georgia.
For people who want to continue Carter's mission with Habitat for Humanity click here.