Key events
27 min: Just before the disallowed goal, Robertson had slid in recklessly on Castagne, chasing his own heavy touch. That should have been a booking, but there's no censure. Both teams have got away with one now.
26 min: Ward kicks the ball straight at Salah. It rebounds to Oxlade-Chamberlain, who returns it to Salah, just by the right-hand edge of the D. Salah lashes it past Ward, but doesn't celebrate the ball hitting the back of the net. He knows Oxlade-Chamberlain was offside when the ball rebounded off him initially.
25 min: Thiago finds Robertson in acres down the left. Robertson shanks a dismal cross deep into the Anfield Road end. Throw in that gift for Barnes back there, and he's looked well off it so far tonight.
23 min: … so having said that, Nunez tears past Faes down the left with ease, reaches the byline, and cuts back for Salah, who lashes wide left from ten yards. He should have scored, or hit the target at the very least. What a run by Nunez, though!
22 min: Klopp wanted an atmosphere at Anfield tonight. Well, he's got one, but it's strained. The home fans are in an extremely pensive mood, and no wonder, their team are all over the shop here.
21 min: The corner's hit long from the left. Amartey has a free header on the right-hand corner of the six-yard box! He should score, but the ball's deflected out for another corner. That one leads to nothing, but Liverpool are on the rack here. Leicester are cutting through them at will.
20 min: Robertson gifts Barnes the ball on the halfway line. He's got options either side, but allows Thiago to make a crunching tackle. No matter, because Leicester come again, Vardy romping down the right and swinging a low cross into the box towards Barnes. Alexander-Arnold's telescopic leg denies Leicester a certain second, at the expense of a corner.
18 min: Elliott dinks the ball down the inside-right channel and is brought down by Thomas. It's the defender's second such challenge in short order, but there's no yellow card, which is slightly surprising. Just a free kick, and one wasted by Alexander-Arnold.
17 min: Alexander-Arnold's eyes light up. He curls the free kick straight into the wall. The ball rebounds to him. He pearls a low drive … and that twangs off the wall as well. Leicester clear their lines. A frustrating start for Liverpool, all right, though they're looking lively enough in attack.
15 min: Thiago busies himself down the inside-right channel this time, and is upended by Thomas just to the right of the D. Vardy comes on before the free kick can be taken.
14 min: Daka can't continue. Vardy – who has ten career goals against Liverpool on his CV – prepares to take his place. On a cold night, he's got a lot of training kit to peel off, so Leicester continue with ten men for now.
12 min: Daka goes down, having felt the back of his leg. A hamstring issue? On come the physios.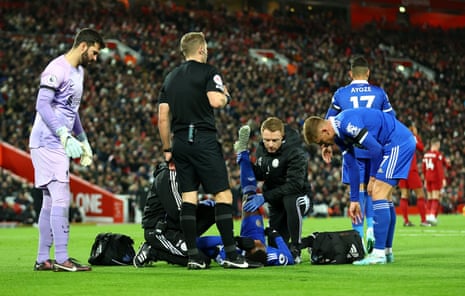 10 min: Alexander-Arnold and Elliott combine well down the right. A low cross nearly finds Nunez on the penalty spot. Amartey extends a leg to poke out for a corner, from which nothing comes. Great defending.
9 min: To be fair to Leicester, the knock-down on the halfway line to send Dewsbury-Hall clear was a lovely brisk exchange between Barnes and Daka. It was as well-worked a goal as it was absurdly defended.
8 min: Another long pass down the middle nearly catches Liverpool out again. Van Dijk gets in the way of the in-flight Daka to knock the ball back to Alisson, who boots clear. Liverpool are looking very shaky indeed.
6 min: That was comically easy for Leicester. A massive gap between the centre backs. Liverpool rolled out the old metaphorical red carpet. They try to respond immediately, Thiago dribbling into the Leicester box down the inside-left channel, but there are three defenders there, and upon meeting them, he falls over and the ball rolls into Ward's arms.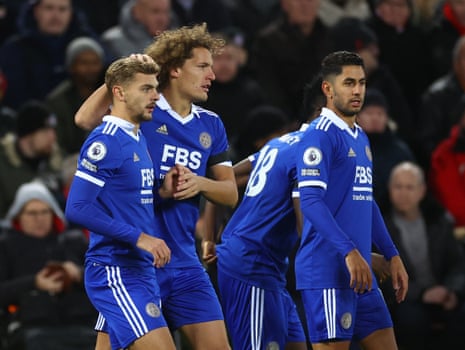 GOAL! Liverpool 0-1 Leicester City (Dewsbury-Hall 4)
Liverpool concede first yet again! Ward kicks long. The ball's knocked down on the halfway line to Dewsbury-Hall, who tears into a huge gap in the Liverpool defence. Straight down the middle of the pitch! He enters the box and bobbles a shot past Alisson and into the bottom left. Easy as that!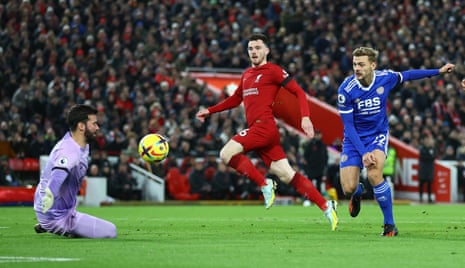 3 min: A long pass down the left nearly releases Barnes. For a second, it looks as though he's got the better of Matip, but the defender holds firm and eventually the ball's run out for a goal kick. Liverpool break, and Elliott sends a weak cross-cum-shot over the bar.
2 min: Elliott, Salah and Alexander-Arnold combine swiftly down the right, a flowing move that earns a throw deep in Leicester territory. The throw is easily claimed by Ward, like Rodgers, another Leicester employee returning to his old manor. But that's a positive start by the hosts.
Alisson raises his arms in prayer, then the whistle goes, and Leicester kick off. They're playing towards the Kop in this first half.
The teams are out! Liverpool all red, Leicester all blue. Alisson carries a bouquet of Brazilian yellow and white to honour Pelé. Jordan Henderson carries a bouquet of Liverpudlian red to honour former striker David Johnson, who passed away in November. Then the warmest and loudest memorial applause for O Rei and The Doc. Meanwhile in the stands sit new signing Cody Gakpo … and Gary Barlow. The match will be underway soon; it only takes a minute.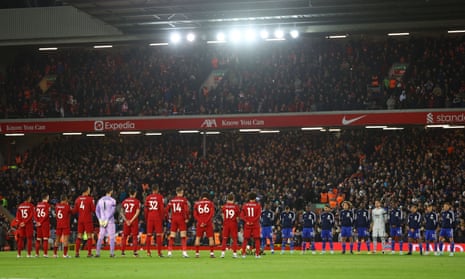 The reason for Fabinho's omission from the squad: his wife has gone into labour. "We hope to have some good news from him in a couple of hours," Klopp reports. Best wishes to Rebeca Tavares and Fabinho.
Rodgers on Pelé. "You have seen the outpouring, the tributes. When he was last here [at Anfield] it was 2015 and I was still manager here. He always reminds me of my father, who loved Pelé, that was his idol, so when I seen [the news] my first thought was of my dad, who has obviously passed away as well. But the outpouring of emotion, the tributes by everyone, it really tells you what he was as a player, but also as a person, and his legend will live on forever, for sure."
Klopp walks off. Coming the other way, Brendan Rodgers. The pair smile and hug warmly, then Rodgers joins Sky for his turn at some pre-match patter. "When you come to the biggest teams, you need the maximum concentration and commitment. We had been on a great run, but it was unlike us at the start of the Newcastle game, when we were two down after ten minutes. It was tough, so we need to get focused and get our concentration right from the off. We've gone for a midfield three that's got legs. With the greatest intention, you have to defend for long periods here, and Wilf [Ndidi] is obviously a good defensive player. Hopefully James Maddison will be back with the group within the next week to ten days."
… and to complete a Klopp triptych, here he is on Cody Gakpo. "We have had interest in Cody for a long time. You know our situation, and we cannot just pick players and put them on top and top and top all the time. We need to collect money a little bit before we can spend a bit, and then we can collect again. So Cody is a very interesting player. He was really well-respected and loved at PSV and we think it is the right moment to put him in. He can play in all four [forward] positions, and that's pretty rare. He has size, physicality, can shoot from outside the box, has a good nose for finishing, is quick, a good dribbler. There are so many things to be excited about. Usually players develop quite well with us, and he is already really good."
Klopp – who is talking to Sky Sports – moves onto tonight's match. "Stats are not too important. We lost the last one against them, and I can feel that if I think about it. You see that Leicester had a difficult start into the season like we did, but they found a way into it. Their line-up has a lot of speed, when they play against us they kick the ball long, so we don't know exactly, we have to be ready for everything. It's Anfield, and it's a long time ago we played here. We couldn't wait and now we have to create an atmosphere."
Jurgen Klopp on Pelé. "My dad always said that, whatever happens in the future, Pelé was the best. So that's in my mind. I saw him only as a kid playing, but I met him once around the 2006 World Cup, and [genuine childlike excitement sparkles in his eyes] I have a signed shirt which he gave to me for my birthday, which is pretty special! So it feels really tough to be honest. Yeah. Let me say it like this: I believe in God and whichever team he's playing now for, they have a decent player. So everything will be fine. But of course it will be a massive loss and may he rest in peace."
Liverpool make one change to their starting XI in the wake of the 3-1 win at Aston Villa on Boxing Day. Harvey Elliott comes in for Fabinho, who misses out altogether. Ibrahima Konate is back from his post World Cup final break and is on the bench.
Leicester make two changes to the side trounced 3-0 at home by Newcastle. Ayoze Perez makes only his second start of the season, while Wilfred Ndidi also comes in. Youri Tielemans drops to the bench, while Dennis Praet is out injured. James Maddison is also injured; Jamie Vardy starts on the bench.
Liverpool: Alisson, Alexander-Arnold, Matip, Van Dijk, Robertson, Thiago, Henderson, Elliott, Oxlade-Chamberlain, Salah, Nunez.
Subs: Adrian, Gomez, Konate, Keita, Tsimikas, Carvalho, Clark, Bajcetic, Doak.
Leicester City: Ward, Castagne, Amartey, Faes, Thomas, Ndidi, Soumare, Dewsbury-Hall, Perez, Barnes, Daka.
Subs: Iversen, Soyuncu, Vestergaard, Brunt, Mendy, Tielemans, Albrighton, Iheanacho, Vardy.
The teams in pretty-picture, social-media form.
Most of the signs point to a home win tonight. Liverpool have won seven of their last eight Premier League games at Anfield against Leicester City, and drawn the other one; the Foxes haven't won at this ground since 2000, the days of Tony Cottee, Robbie Savage, Neil Lennon and Phil Gilchrist (who bundled home Muzzy Izzet's corner to seal a 2-0 win). Liverpool have won their last three Premier League matches; Leicester are coming off the back of a 3-0 home defeat to Newcastle. Liverpool are fifth; Leicester are 13th.
But disciples of both clubs know that Leicester have a habit of making life difficult for Liverpool. They were seconds away from knocking them out of the League Cup last December. They've won two of the last three league meetings, with 3-1 and 1-0 victories at the King Power in 2021. They famously ended Liverpool's 85-game unbeaten home run in 1981. Jamie Vardy has scored ten times against them, while Brendan Rodgers winning at his old stomping ground would be quite the story. So you can look at it whichever way you fancy. All we know for sure is that the game will kick off at 8pm GMT, and that it is on.