A version of this story was originally published in 2019.
The word "spa" means a lot of things in Dallas. There are the hotel spas, sprawling and swanky with rooftop pools and subterranean saunas. There are the med spas, where skin-perfecting, tailor-made facials and Botox can be administered in one fell swoop. There are even mega spas, complete with waterparks and food courts.
But what we're focusing on is North Texas' roster of true day spas, institutions dedicated wholly and entirely to pampering and all the little luxuries that go with it. Many offer waxing, mani/pedis, and even injectables, but their true bread and butter are facials and massages, along with signature services, relaxation rooms, and exceptionally cozy robes.
In true Dallas fashion, we have myriad options when it comes to day spas. We've narrowed down the field to help you discover the absolute best spas among our local, daylong retreats. (For today's purposes, we're sticking with standalone spas–nothing at The Joule or The Adolphus this time.) Here are our favorite places to forget the stresses of life for an afternoon.
Did you know there is a luxurious, subterranean spa in NorthPark's Neiman Marcus? Of course there is. Underneath the bustling cosmetics department is a soothing oasis with curved walls and a warm, glowing light. To enter, just look for the gold-gilded spiral staircase (hint: it's right by the elevators).
At Halcyon, you can book makeup, waxing, and facial appointments, all of which correspond to the beauty counters upstairs. We loved the Cle de Peau's Synactif Facial (complimentary when you purchase two items from the luxury brand's line), which included three types of facial massages (using hands, a hot steel plate, and cold steel balls). Regardless of what you pick, everything falls under the Neiman Marcus umbrella, so you already know it's good.
With outposts in Austin, Houston, and San Antonio, plus several newly opened locations in our region, Hiatus is practically a Texas spa institution. The flagship location in Inwood Village recently received a full revamp with a soothing palette of whites and wood tones, but regardless of which location you opt for, the spa services are consistently solid—and the green tea is bizarrely addictive.
For relaxation so good you'll never want to leave, schedule a Monthly Retreat, a full-body exfoliation with sea salts and essential oils; Vichy shower, a warm rainfall rinse from the comfort of a massage bed; and a Swedish massage. If you can't get enough, join the H-Circle members club. Starting at $69, the monthly fee gets you core spa therapies, including a mani-pedi equipped with an anti-gravity chair, noise-canceling headphones, and an eye pillow for peak relaxation.
This Austin-based spa made its debut at the Shops at Clearfork in Fort Worth a few years ago. Its pampering-as-therapy motto and chic, clean-lined aesthetic was an immediate hit. The spa prides itself on offering an accessible, "hyperclean" experience, from all-natural skincare and body products (including their own) to non-toxic nails and spa services. Milk + Honey offers salon treatments, too, including hair and eyelash extensions. Massages start at $105, but consider springing for the Allure-cosigned "Ultimate." The service features a full body brushing, a massage style of your choosing, and a truly transformational warm oil scalp and neck massage.
This spa's front-of-house retail section, featuring Sugarfina sweets, Kevin Murphy haircare, OSEA products, and its aforementioned eponymous brand, warrants a visit all on its own. (There's also a steam room—or, at least, a steam shower—that's worth experiencing.)
L.A.-based spa The NOW made its North Texas debut in 2021 with locations in North Dallas and on Lower Greenville. This massage-centric oasis has an airy interior filled with natural materials like sheepskins, crystals, and raw wood beams. In lieu of private rooms, The NOW uses thick canvas drapings to separate spagoers. You'll also note a soundtrack of ocean sounds and an omnipresent jasmine coconut scent. As a result, The NOW feels like a chic wellness retreat you'd find on the coasts of California.
The NOW's menu includes a signature Swedish-inspired massage designed to release stress and anxiety, a Healer massage intended to balance the body's energy, and a Stretch massage that promotes muscle recovery and lymphatic stimulation. You can also book services like herbal heat therapy, stimulating scalp treatments, and calming eye masks.
The NOW offers a membership package to encourage customers to prioritize regular self-care. In addition to monthly massages, members enjoy discounts on in-store purchases like dry brushes, Gua Sha tools, and hemp lotions.
Riviera Spa has been a Knox/Henderson fixture for nearly a decade. Upon entering the spa, which is tucked behind the bustling shops and restaurants of Travis Walk, you'll be greeted with a mimosa and robe before being ushered to your dimly lit treatment room. Riviera Spa's extensive menu includes HydraFacials, chemical peels, deep tissue massages, waxing, infrared sauna technology, and float therapy. Each month, a new limited-edition treatment is introduced, like coffee body scrubs and almond microdermabrasion facials.
This spa's front-of-house retail section carries respected skincare brands like Eminence Organics and Circadia Skin, plus Well CBD massage products and Craft + Foster candles.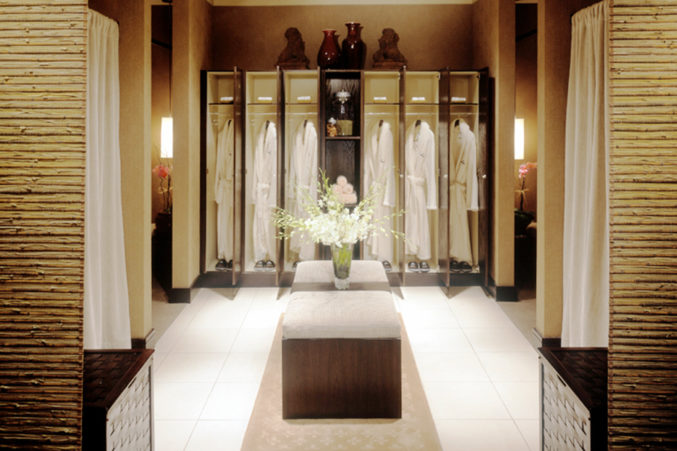 NorthPark's other department store-centric spa may not require a trip to the basement (however elegant it may be), but Spa Nordstrom is still a tucked-away treasure. Inside this calming, second-floor retreat, you'll find an in-depth menu of services—oxygen facials, detoxifying body wraps, lash tints—but Spa Nordstrom's greatest gift to our city may be its airbrush tanning.
We've trusted our pasty complexion with this spa for all the big events, including our wedding days. The St. Tropez formula casts a bronze color that doesn't turn orange and fades beautifully during its weeklong lifespan. Guests can also opt for a body exfoliation first, which helps extend the life of a spray tan.
Under normal circumstances, we might consider a gym spa iffy at best. But this is Equinox and everything is luxurious, from the Kiehl's products in the showers to the chilled eucalyptus towels in the cardio area. The spa—don't worry, it's far removed from the line of treadmills—offers a killer massage and body wrap options designed for muscle recovery and flexibility. Their selection of facials (including microdermabrasion, HydraFacials, and a fancy-sounding 18k gold situation) is just as impressive.
Bonus: non-members who book a 50-minute long treatment are free to use the fitness facilities for the rest of the day. You have two choices: one near downtown Dallas on Oak Lawn, and the other in Preston Hollow, in North Dallas.
The Woodhouse Day Spa first opened in Victoria, the small town in South Texas. In the 20 years since, Woodhouse has expanded to over 70 locations, including Plano, Fort Worth, Highland Village, and Dallas. Naturally, each spa is filled with warm wood tones; the serene interiors are also brimming with greenery like fiddle leaf figs and framed moss.
Choose from skincare (facials and microdermabrasion), massage therapy (four-handed massages? yes, please), and full-body treatments. We're partial to the invigorating Rainfall Refresher as an add-on–enjoy an extra-warm Vichy shower followed by a 15-second burst of chilled water.
There is so much love poured into Vivian's, a small but welcoming day spa situated at the corner of Ross and Greenville. The evidence is in the details: pedicure chairs and cabinets were all custom-built in a wood shop in the owner's hometown of Ennis while white quartz and tufted velvet furniture add to the sophisticated Southern aesthetic in the waiting room.
Spa day treatments include mani/pedis, custom facials paired with a botanically-based Australian skincare line (there's a Jack Black-accompanied option for men), and an array of massages that can include the magical-sounding "Marshmallow Meltdown" add-on. You'll also find seasonal offerings; in the summer, expect to see a menu of total-body treatments like shea butter scrubs and purifying treatments designed to promote soft, clear skin on your back, legs, and arms.