Ethiopia's Gudaf Tsegay and Sweden's Mondo Duplantis both broke world records on a sensational afternoon of action at the Wanda Diamond League Final in Eugene on Sunday (17).
First, Tsegay set the second senior world record of her career and her first outdoors, smashing the world 5000m record with a remarkable 14:00.21* run.
In the second track final of packed second day of action at Hayward Field, the world 10,000m champion took almost five seconds off the world record of 14:05.20 that Faith Kipyegon set in Paris in June as part of a record spree that also saw the Kenyan set global marks for the 1500m and mile.
A fast time had been on the cards and world indoor 1500m record-holder Tsegay delivered in style. The pacemakers led her through 1000m in 2:48.08 and 2000m in 5:37.24, before Tsegay's Ethiopian compatriot Birke Haylom reached 3000m in front in 8:26.03 – well on world record pace.
Looking composed and determined, Tsegay maintained that tempo, reaching 4000m in 11:16.89. She only had Kenya's Beatrice Chebet for company at that point but soon she left the two-time world medallist behind, too, as she strode away targeting another historic performance.
Tsegay created a gap on Chebet with two laps to go and by the backstraight she had stormed ahead of the lights indicating world record pace.
She reached the bell in around 12:55 and with the crowd on their feet and the clock ticking towards 14 minutes, she crossed the line just after that, in 14:00.21.
Chebet followed her in 14:05.92, the third-fastest performance of all time and just outside Kipyegon's previous world record.
"I was really angry to not bring back two medals from the World Championships, but I knew from our training I had a lot of potential to do something with my fitness," said Tsegay, who finished 13th in the 5000m final in Budapest after winning her 10,000m title. "Even though the conditions weren't perfect (in Eugene), we thought we could do it"
Duplantis thought he could do it, too.
Back in the stadium where he broke the world record to win his first senior world title in 2022, the pole vault superstar added another centimetre to his global mark, clearing 6.23m* on his first attempt for the seventh world record of his career.
Mondo Duplantis celebrates his world pole vault record of 6.23m in Eugene (© Marta Gorczynska / Diamond League AG)
He opened his campaign with a first-time clearance at 5.62m, then he passed at 5.72m and also managed 5.82m on his first go. He chose to skip 5.92m and returned to go clear at 6.02m on his first try to win the competition and achieve the 73rd six metre-plus clearance of his career.
But he wasn't done. It was no surprise to see the bar raised to 6.23m – one centimetre higher than the world record height he achieved indoors in Clermont-Ferrand in February – but what happened next had fans left in awe. 
With support from the crowd, he took his run up, planted the pole, and then soared clear – the bar remaining stationary an incredible 6.23m above him.
With his winning performance, Duplantis claimed his third Diamond trophy. Ernest Obiena finished second with 5.82m and Sam Kendricks was third on countback with 5.72m.
"The limit is very high, and I hope that I can continue to jump well and keep jumping higher than I did today," said Duplantis. "But, for now, I'm not really thinking about anything except enjoying this moment and enjoying what I just did."
Ingebrigtsen and Jackson at the double
Jakob Ingebrigtsen had threatened the men's world mile record on the first day of action in Eugene and he returned to the track on day two targeting another Diamond trophy and another fast time in the 3000m. The Norwegian managed both, but only just, as a late charge from Ethiopia's Yomif Kejelcha put him under serious pressure. It took a photo finish to separate them, with Ingebrigtsen getting the win in 7:23.63 to Kejelcha's 7:23.64 ­– the third- and fourth-fastest performances of all time behind Daniel Komen's world record of 7:20.67 and Hicham El Guerrouj's 7:23.09.
Ingebrigtsen had already been the third fastest 3000m runner in history with the 7:24.00 split he recorded en route to his world two-mile best in Paris. But he improved that European record and also set a Diamond League record in Eugene, with Kejelcha improving the Ethiopian record with his mark.
Further PB performances followed – USA's Grant Fisher setting a North American record of 7:25.47 in third, Ethiopia's Telahun Haile Bekele setting a PB of 7:25.48 in fourth and his compatriot Selemon Barega also running a PB of 7:26.28 in fifth.
Ingebrigtsen wasn't the only athlete to complete a Diamond double at Hayward Field. After winning the 100m in 10.70 on Saturday, Jamaica's Shericka Jackson retained her 200m title, too, clocking a meeting record of 21.57 (0.3m/s) in the final event of the programme.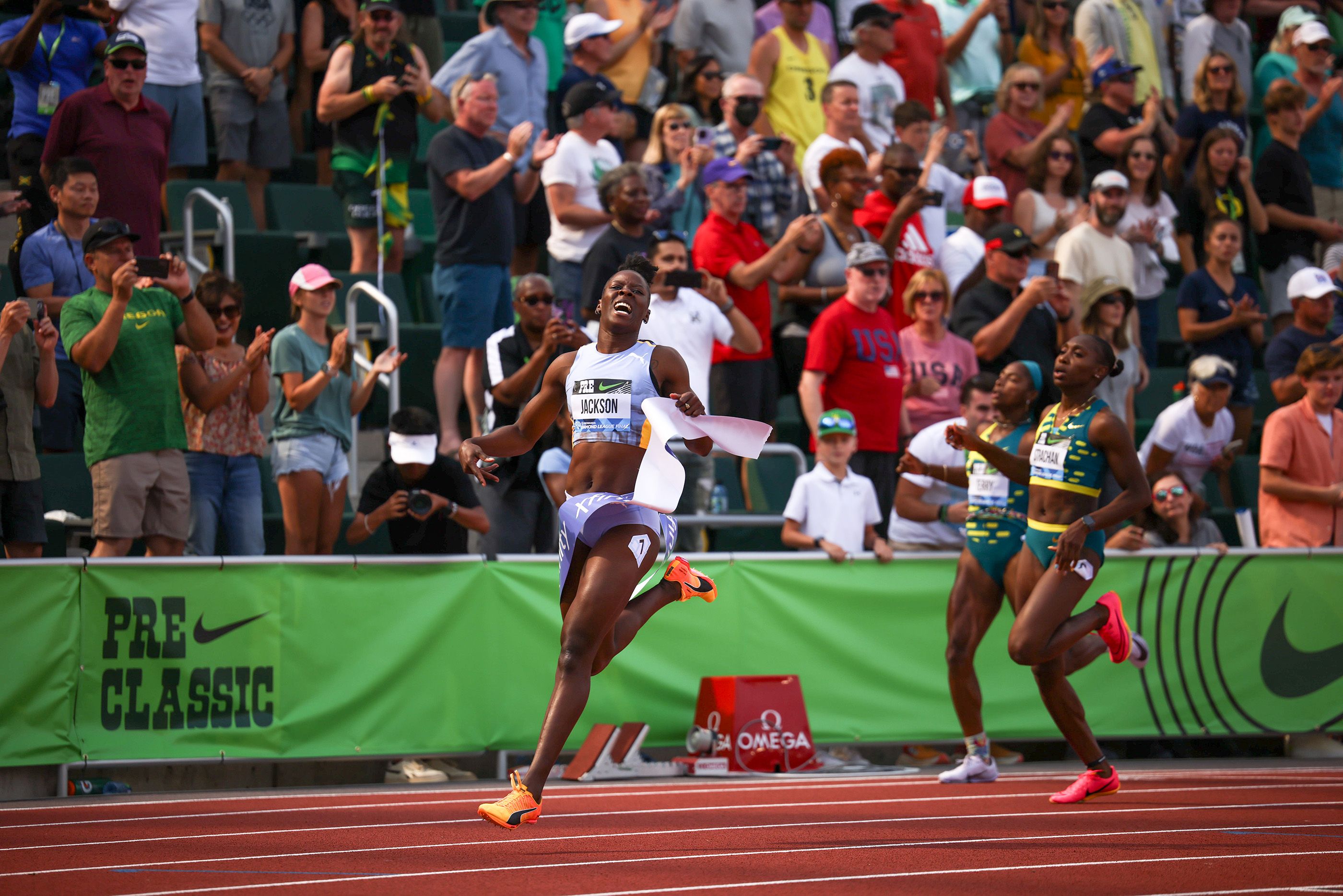 Shericka Jackson wins the 200m in Eugene (© Marta Gorczynska / Diamond League AG)
As she powered away at the start, she was clearly the athlete to beat and so all eyes turned to the clock, with Jackson having spoken openly about Florence Griffith-Joyner's world record of 21.34 being her target.
Although the record eluded her, Jackson's performance is the eighth fastest in history and she now has five of the top eight performances of all time to her name.
Chasing the two-time world champion to the finish line was Cote d'Ivoire's Marie-Josee Ta Lou, who claimed a second runner up finish in 22.10 after also placing second to Jackson in the 200m. Bahamian Anthonique Strachan was third in 22.16.
There was a return to winning ways for Olympic champion Andre De Grasse in the men's 200m, as the Canadian ended a challenging year on a high note.
The multiple Olympic and world medallist finished sixth in the world final in Budapest but rebounded to run his first sub-20-second 200m of the season in Brussels, clocking 19.89 (0.6m/s) to finish third.
He improved again in Eugene, running 19.76 for the fourth fastest time of his career to triumph ahead of US duo Kenny Bednarek and Erriyon Knighton, who respectively clocked 19.95 and 19.97.
Mu and Wanyonyi win 800m showdowns
The women's 800m saw USA's Olympic champion Athing Mu win a much-anticipated 800m clash against Britain's Olympic and world silver medallist Keely Hodgkinson and Kenya's world champion Mary Moraa.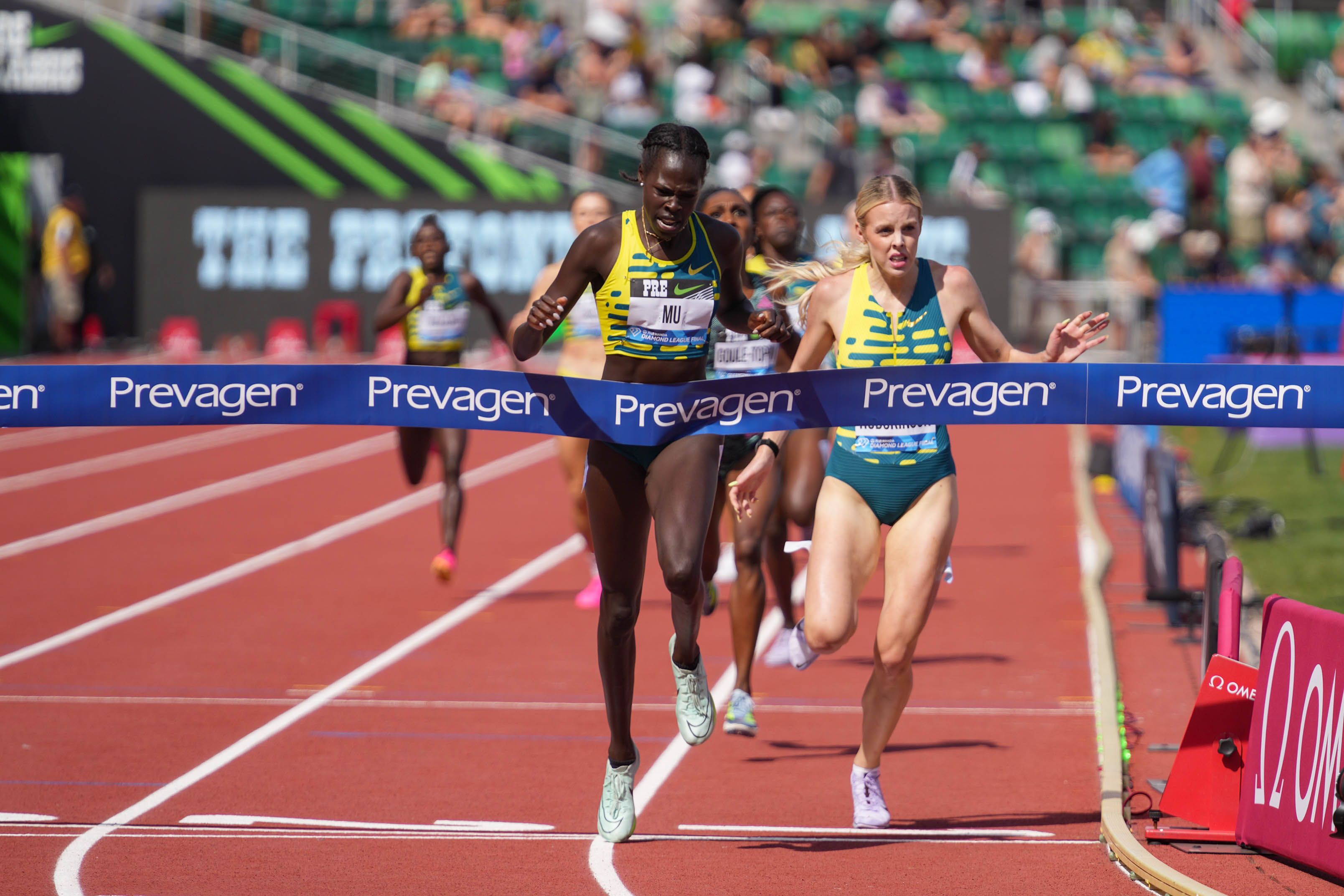 Athing Mu pips Keely Hodgkinson in the 800m in Eugene (© Matthew Quine / Diamond League AG)
While not eligible for the Diamond trophy, as she was racing as a wild card entry having not gathered enough points from competing on the Diamond League circuit, Mu had the chance to end the year on top as she again lined up alongside the pair who had beaten her in Budapest.
In the end, Mu and Hodgkinson pushed each other to national records, as Mu pipped her British rival, who claimed the trophy, with a world-leading 1:54.97 to 1:55.19. Jamaica's Natoya Goule-Toppin also ran a national record of 1:55.96 for third place as Moraa finished fourth in 1:57.42.
In the men's 800m, Kenya's Emmanuel Wanyonyi denied Marco Arop the Diamond League title in the same way that Arop denied his Kenyan rival at the World Championships, kicking off the final bend and storming to a world-leading PB and meeting record of 1:42.80.
Arop led at the bell, following the pacemaker who passed 400m in 49.19. He maintained his front-running tactics through to the final curve, but then Wanyonyi launched his attack.
Algeria's Djamel Sedjati went wide and also gave chase, but Wanyonyi held off them both, crossing the finish line to improve his own PB and world lead by 0.4 of a second, and retain the Diamond League title for Kenya. Arop was second in a Canadian record of 1:42.85, while Sedjati was third in a PB of 1:43.06.
A world lead was also set in the men's 110m hurdles, as Jamaica's Olympic champion Hansle Parchment beat USA's three-time world champion Grant Holloway, improving his nine-year-old PB with the winning mark of 12.93 (0.9m/s) for good measure.
Although Parchment seemed to stutter at the first barrier, he soon made his way through the field and he led at hurdle nine to put Holloway under pressure. As Holloway knocked the final barrier, Parchment moved away for the win, with Holloway staying on his feet for second place in 13.06. As he did at the World Championships, USA's Daniel Roberts completed the top three, running 13.07.
In the women's 100m hurdles, Nigeria's world record-holder Tobi Amusan edged Puerto Rico's Olympic champion Jasmine Camacho-Quinn to win in a season's best of 12.33. Camacho-Quinn was second in 12.38, USA's Kendra Harrison was third in 12.44 and Jamaica's world champion Danielle Williams was fourth in 12.47.
Dutch star Femke Bol broke another record and dipped under 52 seconds once more to win the 400m hurdles. This time the world champion clocked 51.98 to improve the meeting record and win her third Diamond trophy, finishing clear ahead of USA's Shamier Little, who also completed a strong season with 53.45 and second spot. In a repeat of the podium in Budapest, Jamaica's Rushell Clayton was third in 53.45.
Like Bol, Dominican Republic's world champion Marileidy Paulino successfully defended her Diamond League title, winning the 400m in 49.58 ahead of Poland's world silver medallist Natalia Kaczmarek (50.38) and Lieke Klaver of the Netherlands (50.47).
Kovacs crowned after close contest, Diamond gift for Mahuchikh
In a historic men's shot put final, just two centimetres separated the top two, with world bronze medallist Joe Kovacs beating world champion and world record-holder Ryan Crouser, 22.93m to 22.91m – the best ever mark for a second-place finish.
Two-time world gold medallist Kovacs took an early lead when he launched the shot 22.70m in the first round. His US compatriot Crouser, who retained the world title in Budapest with a 23.51m championship record – just 5cm off his own world record – despite having two blood clots in his leg, responded with 22.91m in the second round to take the lead, as New Zealand's Tom Walsh also improved to 22.69m.
But Kovacs had a response of his own and he threw 22.93m in the fourth round to move into top spot, relegating Crouser with 22.91m into second place. The previous best ever non-winning mark was the 22.90m that Crouser threw during that dramatic world final in Doha in 2019, where Kovacs won with 22.91m and Crouser and Walsh both threw 22.90m for second and third.
Kovacs' 22.93m in Eugene replaces that mark from Doha as his second best ever, behind only the 23.23m he threw to win the Diamond League title in Zurich last year and move to second on the world all-time list behind Crouser.
Walsh claimed third place with his 22.69m second round throw.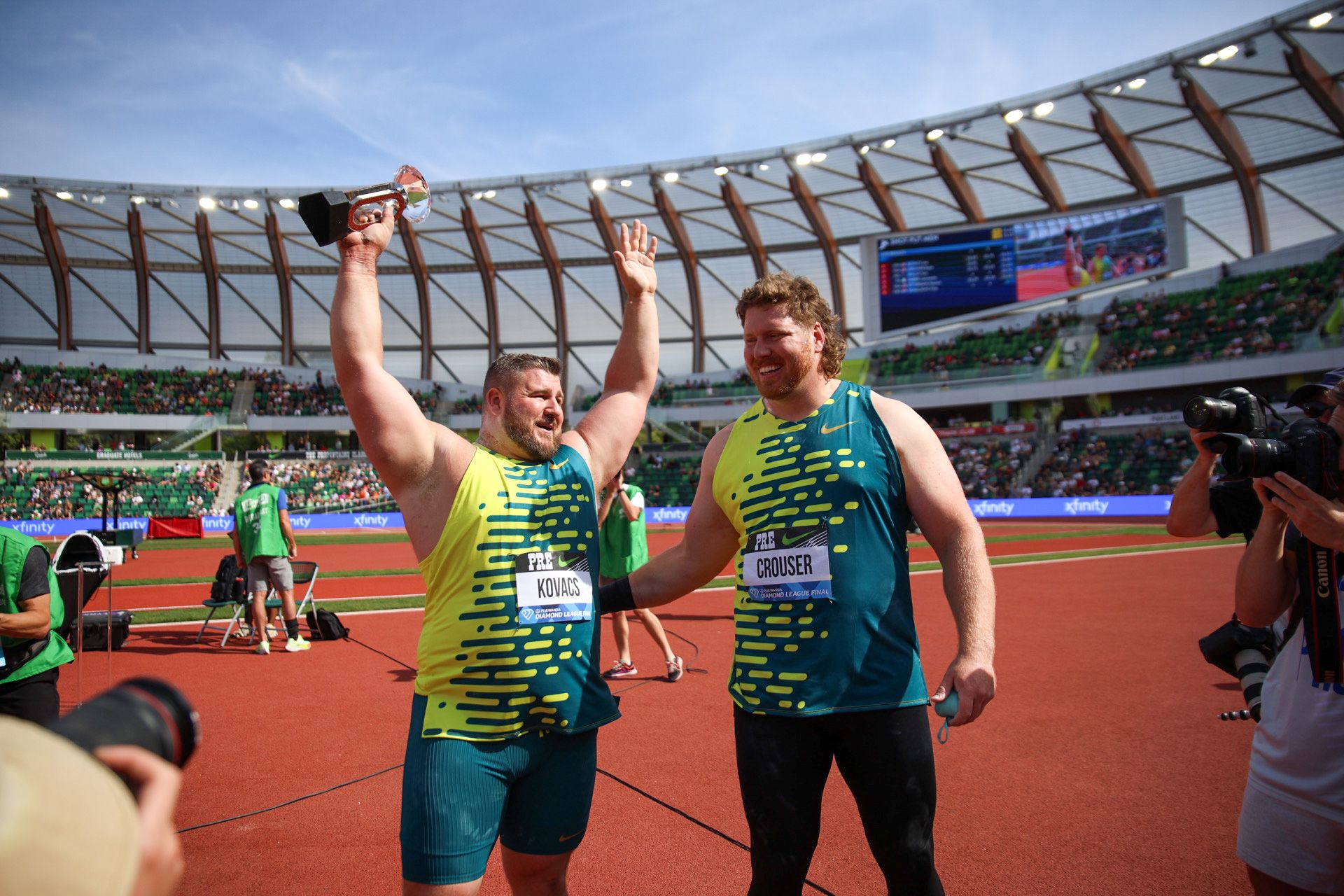 Joe Kovacs and Ryan Crouser in Eugene (© Marta Gorczynska / Diamond League AG)
Two days before turning 22, Yaroslava Mahuchikh gave herself an early birthday present by winning the high jump with a world-leading 2.03m performance.
The event came down to a battle between the joint world leaders, as Ukraine's world champion Mahuchikh went head to head with Australia's world bronze medallist Nicola Olyslagers.
After first time clearances up to 1.95m, Olyslagers had a scare at 1.98m as she needed all three attempts to make it over. But she kept her competition alive by soaring clear on her third try and then momentarily took the lead as she also cleared 2.01m on her first attempt. But so did Mahuchikh, to maintain a perfect scorecard
Then the bar moved to a world-leading height of 2.03m and they both managed it – to huge cheers from the crowd. Mahuchikh was first, achieving it on her second try, before Olyslagers matched her – improving her own Oceanian record by a centimetre when she made it on her third. When 2.05m proved too much for both athletes, Mahuchikh was confirmed as the champion on countback, with Serbia's 18-year-old world U20 and European senior bronze medallist Angelina Topic claiming third place thanks to her clearance of 1.95m.
Olympic champion Valarie Allman and world champion Laulauga Tausaga claimed a US top two in the women's discus, as Allman opened with 68.66m and that remained enough to take the title.
Tausaga fought back with 68.36m in the third round – matching the second-best mark of her career behind the 69.49m she threw to win in Budapest – but it wasn't quite enough. It did secure her second place ahead of Croatia's multiple global gold medallist Sandra Perkovic, who finished third with 66.85m.
The men's discus final pit the past two world champions – the world's current top two – against each other, as Sweden's Daniel Stahl again went head to head with Slovenia's Kristjan Ceh. For a while, the competition went to that script, as the duo led the competition through to the fourth round. But Australia's Matt Denny was ready to spoil their party and with his fourth throw the Commonwealth Games champion launched the implement 67.37m to move into second place – just 1cm ahead of Stahl and 27cm behind Ceh.
None of the leading contenders could improve in the fifth round, but Denny had one more big one in him. After Stahl threw 65.62m on his final go, Denny took to the circle and it was clear as he released the implement that he knew it was good. He jumped up and down on the spot before further celebrations when the distance was confirmed – 68.43m to improve the Australian record he set to finish fourth at the World Championships in Budapest by 19cm.
Only one man could deny him. Ceh took to the circle on the hunt for a second consecutive Diamond trophy, but it wasn't to be and unhappy with his throw, he walked out the front of the circle to record a foul. He finished second with his second-round 67.64m, while Stahl's 67.36m secured him third.
Switzerland's Simon Ehammer and Jamaica's Tajay Gayle could only be separated on countback in the men's long jump, with both athletes leaping 8.22m. Both of those performances came in the fourth round, too.
Ehammer, the 2022 world bronze medallist who holds the world long jump decathlon best of 8.45m, took an early lead with 8.12m and maintained it, his improvement in the fourth round enough to get him the title ahead of 2019 world champion Gayle's second-best mark of 8.08m. Japan's Yuki Hashioka was only 7cm behind them, with 8.15m for third place.
Remarkably, the top two in the women's long jump final recorded exactly the same marks, too. Serbia's Ivana Vuleta left her best until last to leap 6.85m in the final round and add a fifth Diamond trophy to the world title she won in Budapest, winning on countback ahead of Nigeria's Ese Brume, who jumped 6.85m in the third round. USA's Quanesha Burks placed third with 6.77m.
Jess Whittington for World Athletics
*Subject to the usual ratification procedure